Newborn Hearing Screening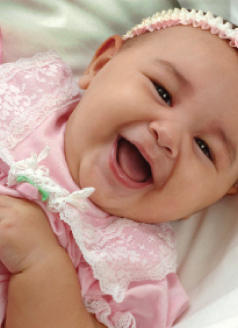 BACKGROUND
Two to three of every 1,000 children in the United States are born deaf or hard-of-hearing, and more lose their hearing later during childhood.
The National Institutes of Health (NIH)-supported research suggests that the most intensive period of speech and language development is during the first three years of life — a period when a child's brain is rapidly developing and maturing. If a child is not exposed to language during this period due to hearing loss, he or she will have more difficulty developing spoken or signed language, and reading skills. In addition, during the early stages of life, the brain builds the nerve pathways necessary for understanding auditory information. For these reasons, identifying hearing loss as early as possible, by the time a child reaches three months of age, enables parents to pursue treatment options early so the child can learn to communicate comparably with his or her hearing peers.
According to the New Mexico Department of Health (NM DOH) 33 babies a day are born in the United States with permanent hearing loss. While newborn hearing screening has become a standard of care in the United States, national data suggest that almost 50% of babies who do not pass their newborn hearing screens are lost to follow-up.  Early Hearing Detection and Intervention (EHDI) program researchers, federal and state program directors, and policy-makers are actively developing programs to improve the rate and quality of diagnosis and intervention for these children. 
GOAL
The goal of the Newborn Hearing Screening (NBHS) initiative is to reduce the percentage of loss to follow-up at all stages of the NBHS process through EHDI guidelines established by the American Academy of Pediatricians (AAP).
CONTEXT
While newborn hearing screening has become a standard of care in the United States through guidelines set by the NIH, much work remains.  Improving quality at the practice level has been and will continue to be, an essential strategy for reducing loss to follow-up in the screening process.  Envision NM (ENM) has worked around the state with various primary care practices on a Developmental Screening Initiative (DSI) of which Newborn Hearing Screening (NBHS) is a measure.  ENM provides expert quality improvement training, support, data tracking and reporting with the aim of reducing loss to follow-up after a failed newborn hearing screen.
OBJECTIVES
Participants in the NBHS Initiative will focus on:
Gestational age known and decumented

Age of child at visit

Child referred for further evaluation?

Newborn hearing screen results documented?

Developmental screen administered at age appropriate intervals

Which tool used for developmental screen?

Developmental screen results documented in chart?

Screening results discussed with family
Participation is restricted to physicians practicing in New Mexico and in the Navajo Nation. The intervention is designed for practice teams, which include the primary care physician and clinic team members such as nursing staff and administration. Participants are encouraged to include all providers from their clinic, as the intervention is based on transforming office systems. MOC credit and/or 25 CME/CEUs are available to providers who complete the initiative.
Carole Conley, LMSW
Education & Outreach Manager
Office Phone: 505-925-7605
625 Silver Ave. SW, Suite 324
Albuquerque, NM 87102
Brandon Bell, M.A.
Quality Improvement Specialist
Office Phone 505-925-7520
625 Silver Ave. SW, Suite 324
Albuquerque, NM 87102