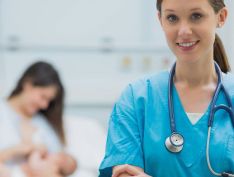 The Reducing Breastfeeding Disparities through Quality Improvement Initiative is a three-year effort funded by the W.K. Kellogg Foundation. This project began in May of 2016 in response to the 2014-2015 assessment work, also funded by the W.K. Kellogg Foundation. The goals are to design and implement a statewide quality improvement (QI) initiative that leads to measurable progress in breastfeeding (BF) care and support practices of New Mexico hospitals; improve community clinic-based practices in support of BF; and address racial and ethnic disparities in breastfeeding rates in NM. These goals will be realized through the following objectives:
Facilitate adoption of hospital and clinic-specific strategies for providers and staff to address BF disparities
Identify barriers and challenges experienced by pediatricians and family medicine providers in community clinics in their efforts to support breastfeeding
Engage community leaders and members throughout the QI initiative to ensure that QI efforts are focused on, and responsive to, priority populations (Hispanic and native American women)
Monitor improvements in hospital and clinic practices and breastfeeding rates amongst priority populations
For more information about the initiative, please contact Adrienne McConnell, MS.